We resume the monthly report of Kazakhstani internet analytics based on the results of our product — WebTotem — website security and monitoring service.
Kazakhstan is one of our biggest clients. Let's see what has changed over the past year as of 10.08.2019.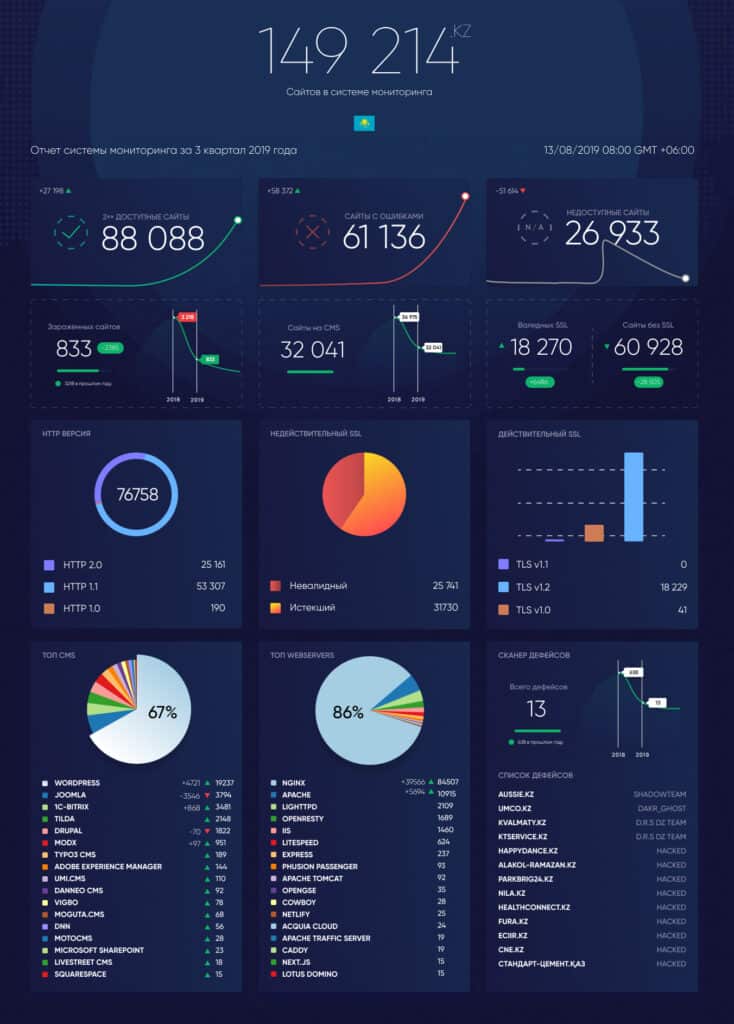 1. The number of web resources using a valid SSL certificate has doubled. Now there are about 25,000 such sites in Kaznet.
2. Out of ~ 150,000 Kazakhstani domains, 88,088 are available. Short explanation: A site is considered accessible if at least a stub from the hosting is hosted on it.
3. The number of infected resources decreased by 4 times, from 3218 to 833. A site is considered infected if it falls into one of the lists of reputation databases (Virustotal, Spamhaus, PhishTank, etc.)
4. CMS WordPress is still a leader in Kazakhstan. Joomla is rapidly losing popularity, compared with last year, the rating fell by half.
5. The website creation service "Tilda" is becoming more popular, the number of Kazakhstani customers has reached the value of 2148.
6. Thanks to the collaborative work with the Ministry of Digital Development of Kazakhstan , the number of defaces (mean. replacing the website main page) fell from 638 to 13. At the same time, the incident response time was reduced from 1 month to 1 day. Current defaces are shown on the following infographic.
7. NGINX is the most popular web server with a 86% market share.
The material was prepared based on the data of free service for monitoring and protecting web resources — https://wtotem.com
P.S. Due to Estonian base origins of company, we are expanding the monitoring area to Lithuania and Latvia too. Report will be prepared and published shortly.